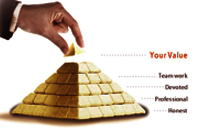 We believe core values are the corner stones upon which we built our company and what we still- and will always- stand for. Integrity
Integrity acts as the base value for all the endeavors undertaken by Fast Forward IT. It supports our dedication to give sincere services and upholds our high standards of excellence and code of conduct. If you have ever worked with us you will know that we will always do what we say and we will always keep our word. Our business practices adhere to the highest moral and ethical principles because we believe that our clients will appreciate an organization that has a strong character.

Innovative

Compassionate towards each other and clients, we believe in constant innovativeness and energetic environment.
Dedication

Dedication distinguishes its operations, products and services. Fast Forward IT strives to improve its client's business performance, creating long term relationships and focusing on execution excellence. Fast Forward IT is a company which deals in all the IT related aspects in Sri Lanka and across the world.
Team Work

Fast Forward IT encourages participation of employees at various levels. It stands united behind each of its team members and this way it welcomes new ideas along with enhanced creativity. Our strong team of design professionals always stays up-to-date with the latest design trends in the industry while maintaining their knowledge of proven design principles. This enables us to provide you with the highest quality designs for software development & other services that will effectively meet your requirements.
Personalization

Every industry is different. Every company is different. You as a client are different from anyone else we have ever worked with before. We understand that everyone we deal with has their own unique set of needs and our goal is to exceed them.