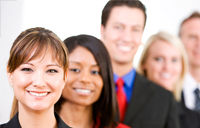 We have a team of Software Developers, Mobile Application Developers,Web Designers, Web Developers, Search Engine Optimizers and Digital Marketers to provide perfect solutions to fit into your budget.

If you look at our workforce, you will find talent, creativity, and innovative ideas all blended together in one team. With solid foundation, all at Fast Forward IT, just aim at Bull eye finding simplified solution for our clients. So if you are looking for breakthrough development or cutting-edge solutions, you know which flight to take.

Our team is all about delivering the best IT management solution to our clients. As such we take service delivery personally. We will go the extra mile to give our customers and our implementation partners throughout the world all the support they require to get the job done. There's no job too big or too small, because we know that customers are at the heart of our success.

Our team is our greatest resource. Our ability to deliver outstanding results for our clients is a credit to their quality and their leadership. As experienced marketers, designers, creative heads, developers & project managers, our people have the strategic, planning and creative skills to conceive, design, develop and implement the most optimal solutions to meet your requirements.

We have extensive experience & expertise in all aspects of software development, web design and web based applications development, mobile application development implementation, integration, support and maintenance. Our objective is to develop long-term relationship with our clients, and servicing them through the delivery of integrated solutions that benefit their business requirements.